The Vietnamese Tet Holiday is one of the country's most important holidays and one of the most greatly celebrated. Tet Holiday is the Vietnamese celebration of the lunar new year. Even the days leading up to this holiday are full of Tet Holiday traditions, and many people use this time of Tet celebrations to relax and reflect upon the coming year.
By learning about the Asian holiday Tet, you're allowing yourself to discover so much about the country of Vietnam which will both help you learn the language and give you a greater appreciation for it.
In this article, we'll be going over Tet Holiday traditions, answering the question "What is Tet?" and even go over Tet Holiday vocabulary so you can learn the language in context.
Let's get started!
1. What is Tet Holiday?
Tet Holiday, or Tết m lịch in Vietnamese, is Vietnam's celebration of the lunar new year. It's one of the most important holidays that the Vietnamese observe, complete with lavish festivities, fireworks, and good food.
Tet Holiday celebrations are similar to other Asian New Year celebrations, but also reflect the individual values, history, and culture of Vietnam. From eating bánh chưng or "chung cake," to visiting the chùa or "Buddhist temple," you'll soon see the significance of the Tet Holiday in Vietnam to its people and what makes it distinct from similar celebrations.
2. When is Vietnamese New Year?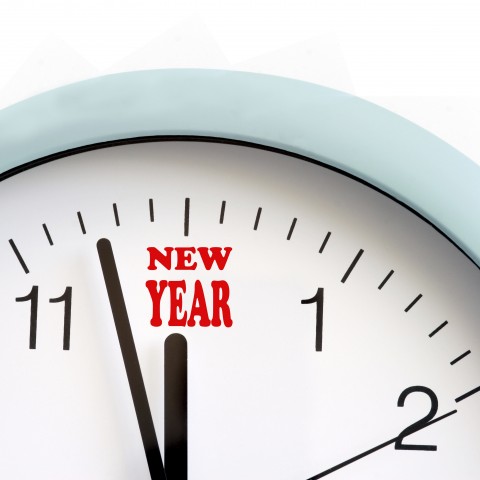 The Tet Holiday is the Vietnamese celebration of the New Year. On the "lunar calendar," or m lịch, it takes place from December 28 to January 3. This usually falls somewhere around late January or early February on the solar calendar.
If it happens to fall before or after a weekend, the total number of days off for this holiday may be from seven to ten, giving a long, relaxing break to everyone in Vietnam.
For your convenience, here's a list of this holiday's date on the Gregorian calendar for the next ten years:
2019: February 5
2020: January 25
2021: February 12
2022: February 1
2023: January 22
2024: February 10
2025: January 29
2026: February 17
2027: February 6
2028: January 26
3. How is it Celebrated?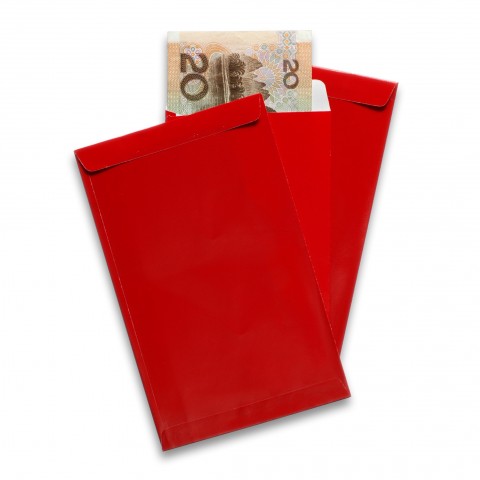 1- Days Leading up to Tet Holiday
On the days leading up toTet, families all over Vietnam are busy with shopping and preparing for the occasion. They often organize and remodel their houses so that they're neat and warm. They also decorate their living rooms with flowers such as apricot, cherry, or cranberry blossoms. In Vietnamese, "apricot blossoms" are called hoa mai, and "cherry blossoms" are called hoa đào.
Lunar New Year's Eve is also a popular time for family reunions. Families often prepare two trays of food to worship their ancestors and the Earth gods at the stroke of midnight. This kind of tradition is referred to as cúng Giao thừa.
Right at the turn of the new year, "fireworks" or pháo hoa, are set off from city centers, and people all over the city rush to the top of high buildings to watch them. Those who live far from the center often go and reserve spots to watch the event several hours before the fireworks begin, or may simply just watch fireworks live on TV.
After the fireworks end, many people pick young leaves at "temples," or in Vietnamese chùa, as they believe these leaves bring good luck to their houses. This custom is called "picking buds for luck," or hái lộc.
2- Tet Holiday Traditions
On day one of the Tet Holiday, Vietnamese people have a custom of wishing everyone a Happy New Year. Young people will wish happy new year to their grandparents and parents, and adults often give money to children, wrapped in red envelopes. On the envelopes, you can find text saying, Hay ăn, chóng lớn, vâng lời cha mẹ, which literally means, "Eat well, grow fast, and obey parents."
On New Year's day, people greet each other by saying Chúc mừng năm mới!, meaning "Happy New Year," or Chúc vạn sự như ý!, meaning, "Wish you everything to your liking."
Many Vietnamese people also believe that the first person to step into their house (người xông nhà) on the first day of the Lunar New Year will be the one who brings either good luck or bad luck for the year.
4. Additional Information
Among the many New Year dishes, sticky rice cakes and steamed Gac rice are two dishes specially served on Tet Holiday. Also, boiled chicken, lean pork paste, and fried rolls are presented on special trays for the occasion.
5. Tet Holiday Vocabulary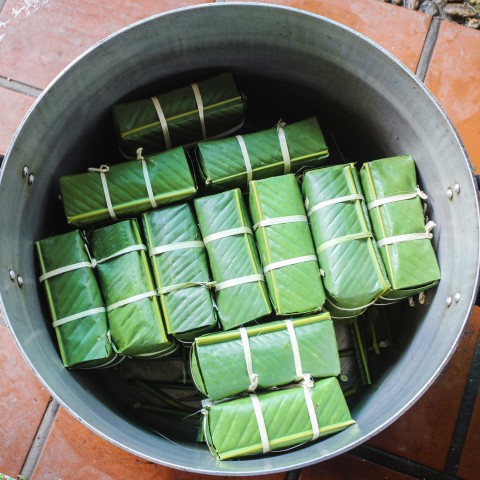 To help you fully understand the Tet Holiday and how it's celebrated, we've prepared a list of the most useful words to know for this occasion with their definitions.
kẹo — "candy"
Tết Nguyên đán — "Lunar New Year"
rượu nếp — "glutinous rice wine"
hạt dưa — "watermelon seeds"
dưa hành — "pickled onion"
tiệc — "party"
giao thừa — "New Year's Eve"
hoa đào — "peach flower"
tiền mừng tuổi — "lucky money for happy new age"
cây quất — "kumquat"
lời chúc — "greeting"
hoa quả khô — "dried candied fruit"
câu đối — "couplet"
bánh chưng — "chung cake"
chùa — "Buddhist temple"
người xông nhà — "the first person to enter the house on the first day of the year"
mâm ngũ quả — "five fruits tray"
To hear the pronunciation of each Tet Day vocabulary word, visit our relevant vocabulary list. Here, you'll find an audio pronunciation alongside each word.
Conclusion
As you can see, the Tet Holiday is an important holiday to the Vietnamese people and is celebrated whole-heartedly! What New Year traditions are there in your country? Let us know in the comments!
For more information on Vietnamese culture and the language, visit us at VietnamesePod101.com. We offer an array of insightful blog posts, free vocabulary lists, and an online community where you can discuss lessons with fellow Vietnamese learners. You can also download our MyTeacher app for a one-on-one learning experience with your own personal Vietnamese teacher! We're here to make learning Vietnamese fun and efficient.
We wish you the best as you delve deeper into Vietnamese culture and continue practicing its language. Continue studying and practicing, and you'll master the language before you know it!